Vaccinations
Different vets follow different vaccination protocols depending on what they believe to be best, and perhaps on how good a deal they get from the manufacturer. Whilst it seems safe to assume that a vet will be knowledgeable about their own protocol, please do not assume they are knowledgeable about others - it wouldn't be the first time we've received false information from a vet on vaccine compatibility.
At Lomond Hills, we have a strong opinion on vaccination, and therefore a strict protocol which we stick to religiously. We advise that our customers follow this protocol, but ultimately, it is up to you to decide what to do for your puppy moving forwards. Please remember that most vets will only have one brand/programme of vaccinations and will only be interested in selling you that programme, which may or may not be for the best - particularly given that we have started vaccinating your puppy already. Do your research and select a vet based on your findings.
Our protocol:
Firstly, we do not believe in unnecessary over-vaccination. We believe that over-vaccination may actually be more harmful than not vaccinating at all. We take a balanced view and work with our vet (of 15 years+) to provide our puppies with what is necessary, and nothing more.
We vaccinate all of our puppies against Canine Parvovirus and Leptospirosis when they are 6 weeks old. We believe these are the most severe threats, so we like to give our puppies protection as early as possible, and this is the youngest age at which it is safe to administer these vaccines. The specific brand and vaccine type we use at the 6-week stage are: Canigen Parvo-C (for Parvovirus) and Canigen Lepto 2 (for Leptospirosis).
Once the puppies are 10 weeks old, they require one further vaccination to provide complete cover and they will be safe to go out in public one week after this vaccination. At this time, they should be vaccinated against Canine Distemper, Canine Hepatitis, Canine Parvovirus (again) and Leptospirosis (again). The specific brand and vaccine type we recommend are used at this stage are: Canigen DHP (for Distemper, Hepatitis and Parvovirus) and Canigen Lepto 2 (for Leptospirosis). Please note that the Nobivac brand of vaccine IS compatible with the Canigen brand, so it is safe and consistent with our protocol to give Nobivac DHP and Nobivac Lepto 2 instead. It should be noted however, that the Vanguard brand is NOT compatible with Canigen or Nobivac, and Lepto 4 is NOT compatible with Lepto 2.
If you want to follow our protocol, you need to find a vet that stocks Canigen or Nobivac DHP and Lepto 2.
After this, nothing further is required until the annual booster is due, which will be Canigen/Nobivac DHP and Canigen/Nobivac Lepto 2. After that, you will want to vaccinate against Leptospirosis on an annual basis using Canigen/Nobivac Lepto 2 as the vaccine offers immunity for one year only. The Canigen/Nobivac DHP vaccine offers immunity for 3 years though, so this will only need repeated once every three years to keep your dog covered. Please see the table below taken directly from the manufacturer's website which we have annotated: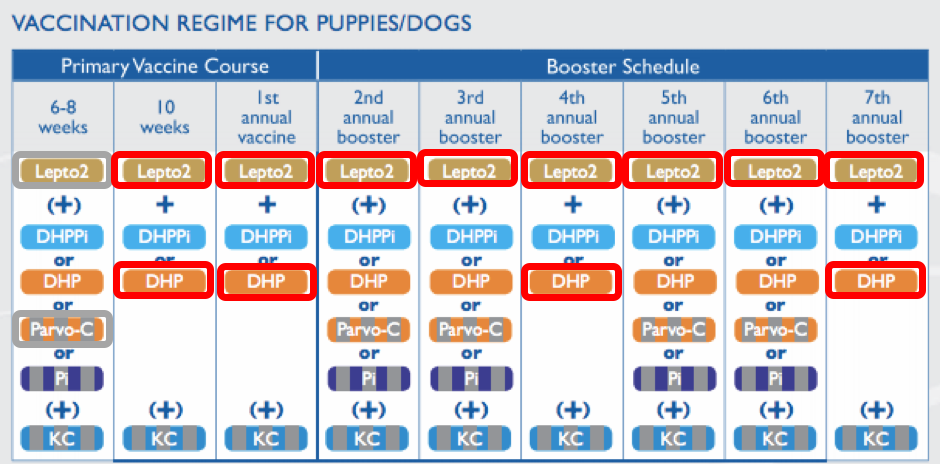 What your puppy has already had
What we recommend you should continue with
If you change protocols and vaccinate with the Vanguard brand, Canigen/NobivacLepto 4, Canigen/Nobivac DHPPi or Canigen/Nobivac Pi - further puppy vaccinations after the 10-week stage will be required, and your puppy will not be safe to go out in public at 11 weeks old as s/he otherwise would have been.